Hey there, couple notes:
I'm doing a 1-hour webinar on how to avoid burnout when working remotely. Register here.
A new series is coming to this newsletter sharing untraditional workdays. Read through the article for more details.
Registrations for Mastering Remote Leadership cohort 2 are now open! The world went remote overnight and you never got the training you deserved. I've created a course to support you in figuring out how to thrive as a remote leader without going through years of trial and error. Check out more details below.
---
Today I'd like to share a little story and make some important announcements.
Like many of you, I fell into remote work accidentally. But, unlike most of you, it happened five years before the pandemic. This gives me an interesting perspective on what everyone is going through, like an adult seeing a teenager repeat their mistakes.
TLDR below 👇 | Read this on the web | Subscribe​
​
My Story
In 2015, I was stuck in a highly toxic tech job. The kind where you dread Mondays and feel physically ill every morning before going into the office. Being in such an unhealthy environment zapped all my energy and made me feel like I lost my identity in a swirl of depression.
So I took the first job that landed in my lap, and it just happened to be remote. While I had done work from home in the past, this was my first entirely remote role. I didn't realize until much later what a big difference there is between the two.
From my very first day in this fully remote role, I was in love. Don't get me wrong, the position was far from perfect. The company's virtual environment needed a ton of work. Leadership made every mistake in the book. And personally, I knew nothing about the importance of virtual boundaries, so I was constantly battling another burnout cycle.
But true love gives you rose-colored glasses and I didn't see those issues at the time. Instead, what I saw was having full agency to create my own healthy work environment, the freedom to spend most of the day with people I chose, and gaining so much time back. Slowly but surely, this helped me find myself again.
How It Started
With my identity returning, back came my drive and ambition. I pointed it directly at this new way of work. Resources were few and far between. While frustrating at the time, I realize now it gave me permission to think outside of the box. I relied heavily on experiments. I used myself as a lab rat to figure out how I needed to work differently and what new possibilities were now available.
Over the years, I expanded on what worked and iterated over what didn't— inching my way closer to my dream life. Soon people started recognizing what I was doing and asked for help with their own remote work woes. This led to incorporating my company, Remote Work Prep LLC in 2018. it was just supposed to be a little side hobby business. Back then, people warned me against starting a business in the space, saying it was too niche and would "surely" die out. But I persevered because it was never about the money. It was about helping others upgrade how they live through changing how they work.
2020 came out of nowhere and made us explode. We were a word-of-mouth business, but I suddenly couldn't keep up with requests. So I ignored all of my introverted tendencies and started publicly sharing online. It still feels outside of my comfort zone even one year later, but it's made it possible for me to help so many more people. It's the reason you're reading this now. There was no newsletter, Twitter, or blog back then.
Initially, I thought the pandemic forcing everyone into remote work overnight would be bad for the future of work. Pandemic remote is much different than normal remote, companies are still making the same mistakes, and most aren't fully aware of what's possible. But it turns out you are just like me six years ago. Even with the burnout and Zoom fatigue, remote work still feels hopeful to you and like it might help create a brighter tomorrow.
What's Next?
So what's next? My side business is a hobby no more. I'm pleased to announce I've gone full-time with my work at Remote Work Prep! I strongly feel you shouldn't have to waste time repeating the same mistakes I did. We offer Fractional Head of Remote services and 1:1 coaching to ensure that doesn't happen, and we have even more exciting things in the pipeline. Registration for the 2nd concert of our Mastering Remote Leadership course just went live, and we have an IC version coming soon.
Most people don't know what they don't know. We've done work in one way for so long that it's hard to think beyond our default options. One way we're going to help with this is through a new series in this newsletter where we feature one person's untraditional workday. What's possible when we think beyond working the traditional 9-5, Mon-Fri schedule? What are your new options? Hopefully, this series will provide you with inspiration and a feeling of community as you enter your own experimental process. Stay tuned for more.
As I enter this new phase, you being here, sharing my content, taking my courses, and referring others to Remote work Prep is even more important and appreciated than ever. None of this would be possible without you.
Thank you for helping to support my vision of upgrading our quality of life by changing how we work. I'm looking forward to creating a brighter future together.
​
TLDR
Thank you for joining me on this journey!
​
Quote of the Week
​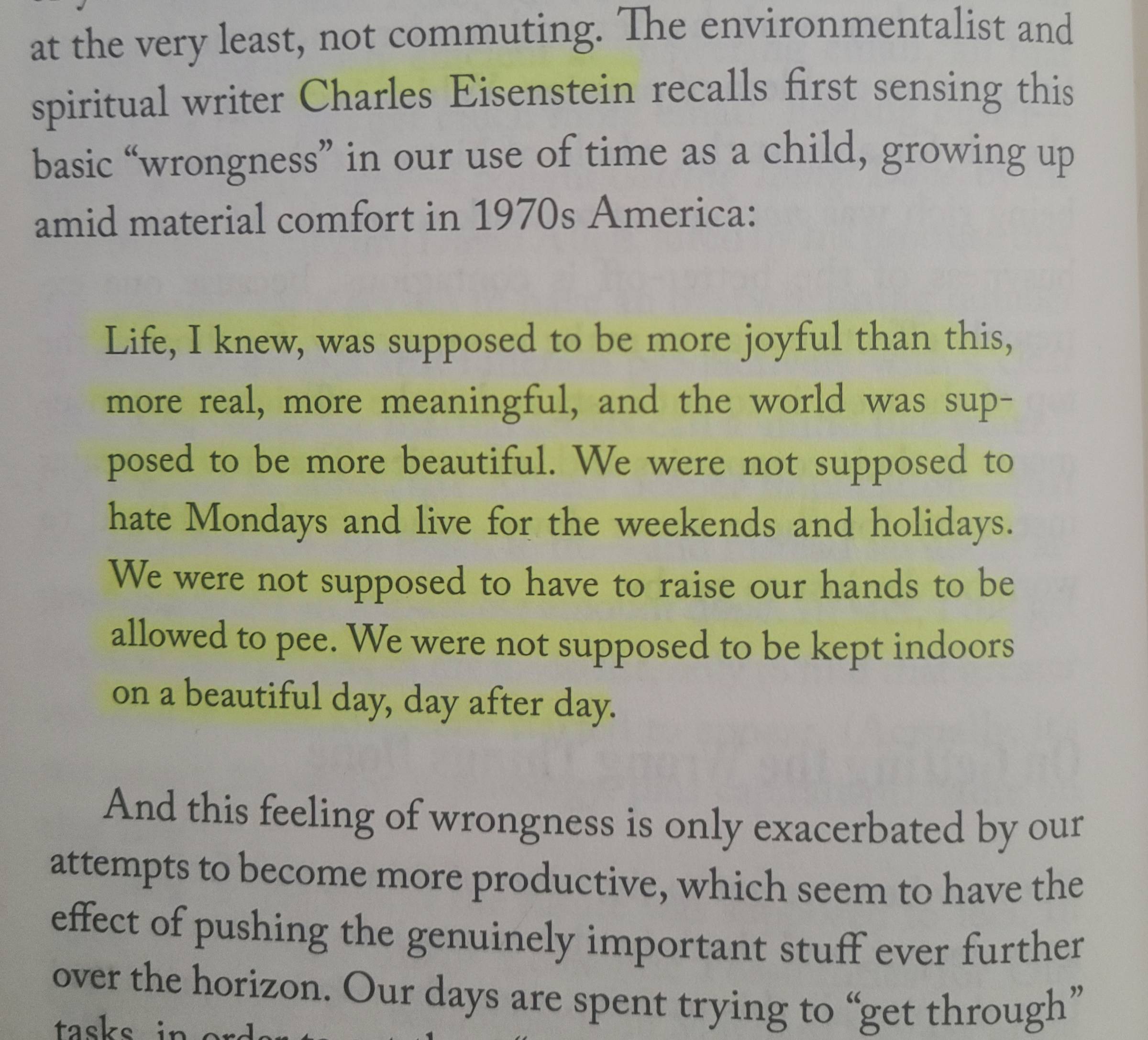 ​
In Other News
$15 for a playbook that will help you stop burning out while working remotely? Sounds like a good deal to me. Come join me and Tech Ladies for a 1-hour webinar on

avoiding burnou

t. All sign-ups will receive a recording and all genders are welcome.
​
Mastering Remote Leadership
It's official! Registrations for cohort 2 are now open. If you missed out on cohort 1, now's your chance! Stop settling for a bad remote experience. You and your team deserve better.
The world went remote overnight. Now remote work is here to stay, but the same management techniques that were effective in-person lead you to everything you hate about remote work: miscommunication, lack of connection, and endless meetings.
I know because I've been there.
When I went remote 6 years ago, I was frustrated that what worked in the office wasn't getting the same results virtually. It took me years of trial and error but I've since learned how to lead even more effectively remotely than I did in person.
The strategies I share lead to:
Thriving team cultures

Increasing team velocity and output

Cutting meetings from 80% of your workweek to 5%

Taking full advantage of the benefits of remote work and living the way you want
I don't want you to have to waste years figuring out what works. You didn't get the training you deserved when you first went remote. Let's make sure you get it now.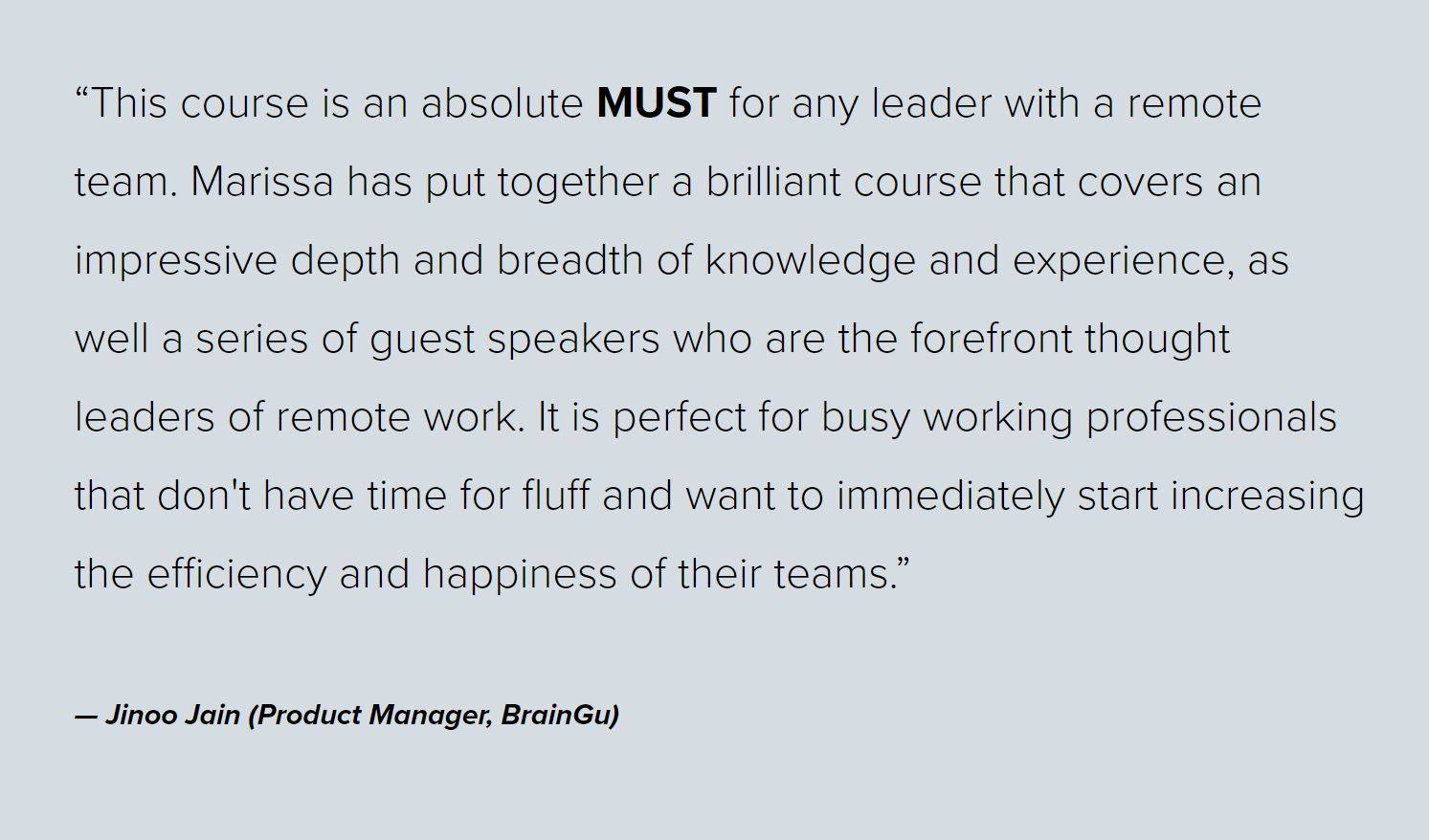 This 4-week live Mastering Remote Leadership course runs from Oct 25 - Nov 19. It's a mix of recorded instructional videos, live events, resources, community, and projects. Plus, personalized feedback from a community of peers and exclusive Q&A sessions with industry leaders.
By the end, you'll have developed a working system that allows you to lead a distributed team to successfully communicate, collaborate, and thrive together.
Hurry, there are limited seats available. Registrations close on October 8th, however, they will close early if capacity is reached. I'm offering a $100 discount to you because I appreciate you being a loyal subscriber. Use code 'NEWSLETTER' at checkout. This code expires on Sunday, Sep 26th 11:30pm ET.
This was made for managers, team leads, product leaders, and founders. I'm very excited to help you level up as a remote leader!
If you're not a leader, please share this with your leaders because it will help them provide you with a better work experience. Also, check out my webinar on avoiding burnout out and reply to this message to get on the waiting list for my upcoming course on working asynchronously.
Happy to answer any questions you have and I'm always open to requests. Feel free to reply to this message or DM me on Twitter @mar15sa.
I truly appreciate you taking the time to read this. Hope you have a lovely day!
Marissa
​